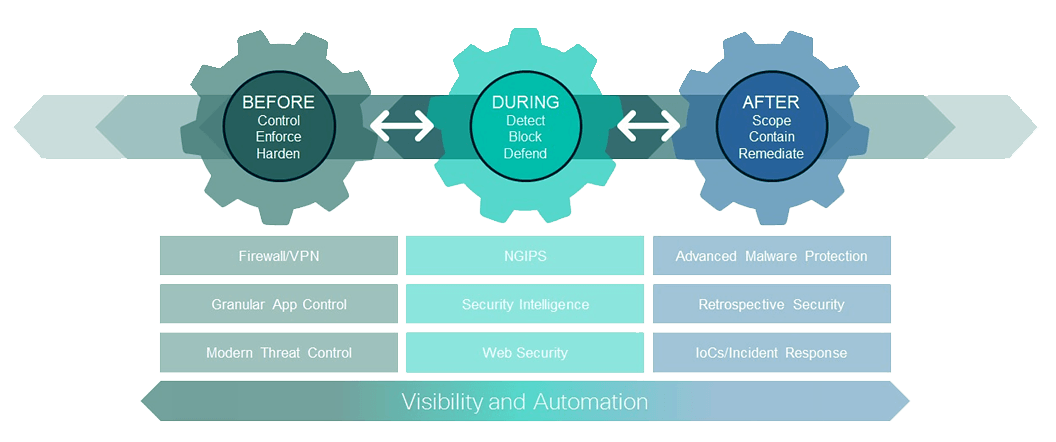 Before attack, FirePOWER engines allow you to control access on several criteria either on Port/Protocol like old Firewall, and also on users, operating
systems, applications, VMs and other network components. During attack, you get a whole IPS Analysis associated with complete security intelligence.
Cisco is really committed on security. They have gathered hundreds of specialists to monitor internet 24/7. Called Talos, this organization can take instant
decision and push preventive rules to the equipment. You can face zero day attacks way faster than any other solution.

One of the most important parts, usually neglected is after attack phase. Because it would be lying to say that no attack will never ever succeed,
Cisco solution collects all information and tell you if and how part of the system has been compromised and additionally describes the way how to deal with
such situation! Too many vendors on the market prefer to be blind on this side, which allows Advanced Malware Protection, a component of FirePOWER Services,
to act efficiently and provide exclusive support.

You can get the benefits of all FirePOWER Services by purchasing any of currently selling ASA (5506, 5508, 5512, 5515, 5516, 5525, 5545, 5585)
and FirePOWER Next Generation IPS Appliance.

For more information on Network Security, contact your Comstor CSI Representative.